Polling Station
Poll 01/08/2018 – 31/08/2018
Asymptomatic carotid artery disease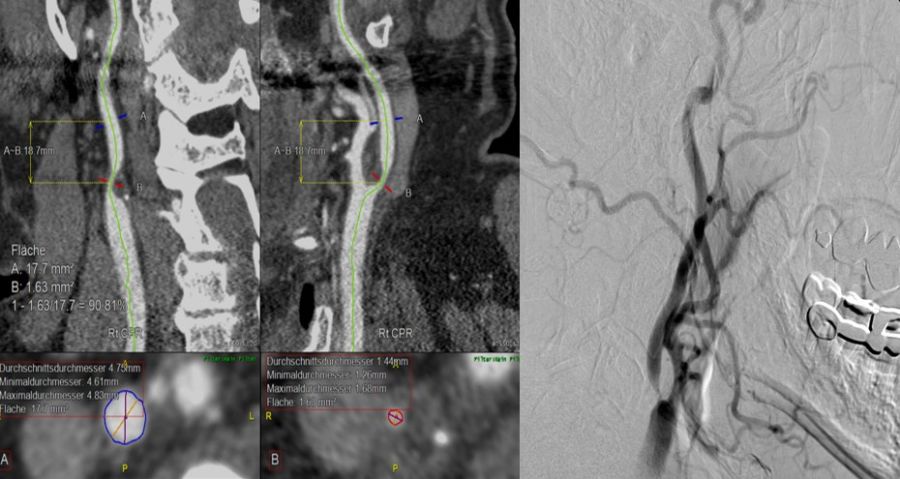 Patient's characteristics
Gender: Female
Age: 72 years old
Comorbidity: Arterial hypertension, hypercholesterinemia, previous smoker
Symptoms: None
Previous operations: None
Vascular Imaging of the left internal carotid artery: Duplex ultrasound with peak systolic velocity (PSV)> 230 cm/sec
Which would be your further imaging modality?
CT angiography
MR angiography
None
Duplex Ultrasound scanning from a second operator
Intra-arterial digital subtraction angiography
Is in asymptomatic patients the percent of the stenosis the single indication for treatment?
Which criterion is the most important to decide between carotid endarterectomy and carotid artery stenting in a patient with an asymptomatic carotid artery stenosis?
Comorbidity
Plaque morphology
Aortic arch morphology
Gender
Age
Does gender influence your decision making in patients with asymptomatic carotid artery disease?
Is TCAR (Transcarotid Arterial Revascularization) a valuable alternative to the established invasive treatment options?
I am not familiar with TCAR technique
Yes
No
How often do you perform imaging follow up following CEA or CAS in your daily practice?
Every 3 months
Every 6 months
Every 12 months
We do not perform imaging follow up
Do you perform carotid artery disease screening in asymptomatic patients undergoing cardiac surgery in your daily practice?