ELUVIA™ Drug-Eluting Vascular Stent System
Manufacturer Info

Boston Scientific
Why to use it
The ELUVIA™ Stent System delivers unprecedented results in the SFA through its unique SUSTEND™ drug-delivery technology
ELUVIA is the only polymer-based peripheral paclitaxel device that provides controlled, localized, and sustained delivery of the lowest drug dose,optimizing the amount delivered to the tissue while minimizing downstream particulates. ELUVIA has demonstrated excellent efficacy and safety results inthe IMPERIAL RCT and MAJESTIC Trial.
In the IMPERIAL Trial, Eluvia demonstrated a statistically significant difference in primary patency and half the TLR rate vs. Zilver PTX at 12 months 1.
SUSTEND™ Polymer-Based Drug Delivery
The only SFA treatment option that sustains drug release for 12 months, when restenosis is most likely to occur
Proven polymer implanted in 10 million lesions since 2007
Optimized Stent Platform
Optimized for flexibility, strength and fracture resistance
Triaxial delivery system for precise deployment
1IMPERIAL Trial: A global randomized controlled multi-center trial with 2:1 randomization of the Eluvia™ Drug-Eluting Stent against Cook Medical's Zilver™ PTX™ Stent, single-blind, non-inferiority design; independent core lab adjudication. Superiority determined in a post hoc analysis that was specified prior to unblinding. 12-Month Primary Patency rate of 92.1% in the Eluvia arm vs. 81.8% in the Zilver PTX arm (p-value = 0.0094).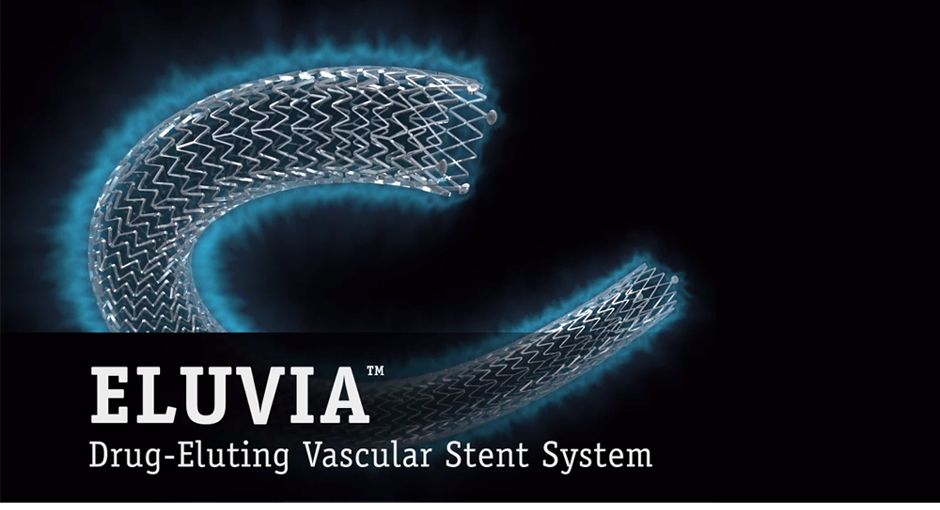 Characteristics