Indigo System
Penumbra's Indigo Aspiration System can be used to remove emboli and thrombi from vessels of the peripheral arterial and venous systems, and for the treatment of pulmonary embolism and/or certain central circulatory system conditions such as pulmonary emboli. A minimally- invasive device, Indigo enables the restoration of blood flow in such cases as acute limb ischemia and venous thrombus. Most recently, Penumbra launched Lightning Computer-Aided Aspiration which enables physicians to focus on optimising thrombus removal using the system's unique clot detection mechanism.
Why to use it
Lightning Computer-Aided Aspiration

o The Indigo System with Lightning Aspiration Tubing is a computer- aided aspiration system powered by Penumbra ENGINE. Lightning Aspiration Tubing has dual pressure sensors for real-time blood flow monitoring. The built-in microprocessor features a proprietary thrombus removal algorithm that automatically controls a valve in the tubing to provide continuous or intermittent aspiration. With automatic valve control, Lightning can help the physician focus on optimising thrombus removal procedures. Throughout each case, Lightning provides procedural feedback via audio visual cues.

Catheters & Separators

o The Indigo catheters vary in diameters from 3.4Fr to 12Fr. Lightning 7a and Lightning 12a are made of laser-cut hypotube technology, designed to increase trackability and torqueability. The combination of computer- aided aspiration and large-lumen catheter engineering form Lightning 7 and Lightning 12: the latest generation in clot removal technology.

o The Penumbra Indigo System Separator is intended for use with our Indigo System's family of catheters to enable the removal of a wide range of thrombus. The Indigo Separator is advanced and retracted through the corresponding size Indigo catheter at the proximal margin of the primary occlusion to facilitate clearing of the thrombus from the catheter tip.

a. Lightning 7 includes both the CAT7 aspiration catheter as well as Lightning Tubing. Lightning 12 includes both the CAT12 aspiration catheter as well as Lightning Tubing.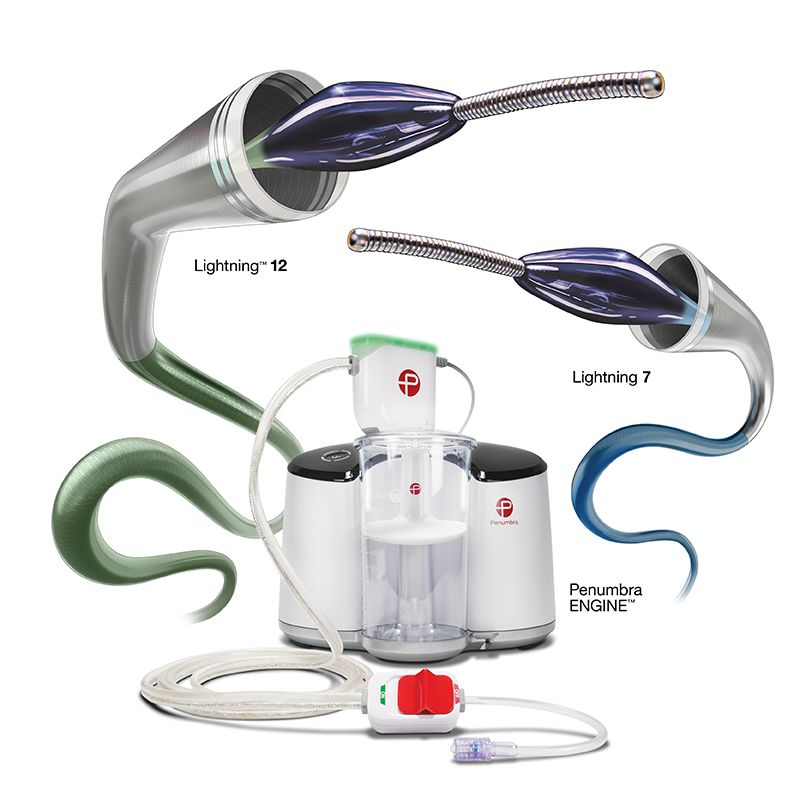 Instructions for use