Kinepict Medical Imaging Tool
Kinepict helps medics see their patient's arteries more clearly, while reducing the risks associated with angiography.
Kinepict software is a CE marked and FDA cleared class IIa clinically validated medical device which fully complies with ISO 13485 standard and can be connected seamlessly to any kind of angiography system.
Our proprietary algorithm enhances the quality of x-ray images. Our software works with existing technologies to create sharper pictures that give clinicians more information to support their diagnoses and treatments.
In addition to the clearer images, Kinepict offers a 70% reduction in radiation dose, as well as a 50% reduction in iodinated contrast agent. This means that Kinepict delivers superior clinical tools while reducing the risks to patients and clinicians alike.
While Kinepict technology is beneficial to general patient populations, our breakthroughs offer particularly compelling benefits to high-risk groups. This includes children, people with kidney function issues, diabetics and obese patients. All patients are at some risk from the damaging effects of radiation, but those groups are more susceptible to the side effects of angiographic procedures – if they are eligible for such procedures at all.
Kinepict has been operating since 2016. Our work has been clinically validated 6000+ patients and 100 000+ images and published in leading peer-reviewed journals.
Learn more about us and book your appointment for a fully personalised consultation at kinepict@kinepict.com  or +36-31-782-4019.
Manufacturer Info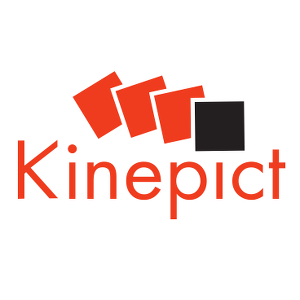 Kinepict Health Ltd.
Why to use it
Kinetic imaging consists of data acquisition and analysis obtained from X-ray image series. The new digital variance angiography (DVA) represents contrast medium motion inside the patient.
Kinepict's DVA technology has at least 3 fundamental and unique benefits, addressing clear unmet medical needs: DVA drastically enhances the quality of the images (3-10 times higher signal-to-noise ratio) and using this quality reserve reduces the X-ray exposure by at least 70% and ICM dose by at least 50% in angiographic interventions.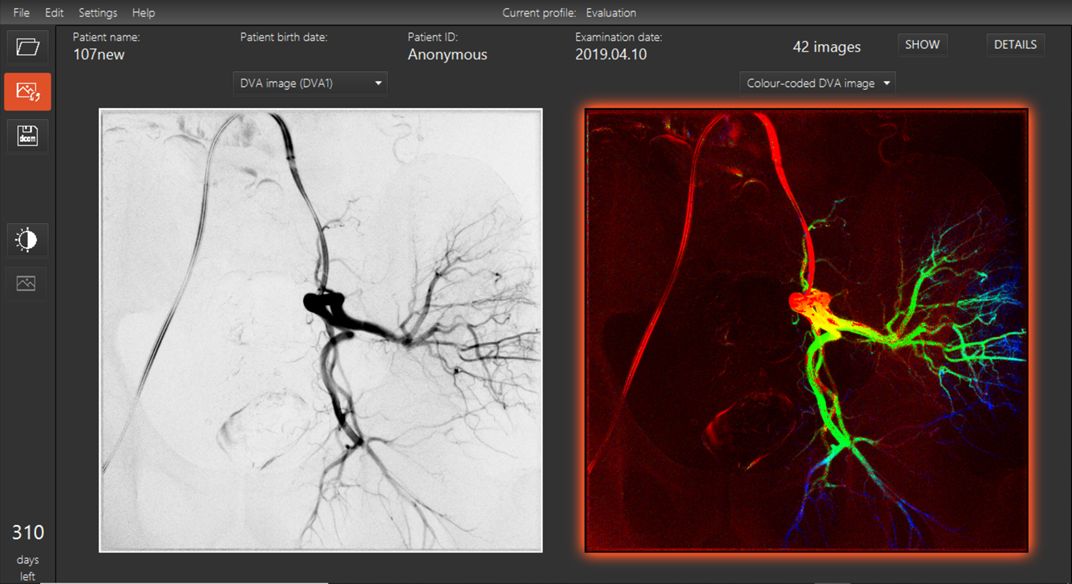 Instructions for use
Characteristics
Safer and powerful platform for patients in cath labs in hospitals/ clinics:
• Reduced risk of complications from radiation exposure for patients. It enables longer procedures to treat obese and high-risk patients. Substantial reduction of X-ray radiation: reducing the cases of cancer associated with X-ray radiation and long-term health risk for physicians and staff worldwide
• Improve outcomes in patients with Chronic Kidney Disease by reducing contrast induced Acute Kidney Injury (AKI) and lowering hospital costs
• Suitable for pregnant women and patients with impaired kidney function
Improved performance for CO2 angiography:
• Better image quality in CO2 angiography than the industry standard DSA
• First platform that improves image quality and reduce radiation in CO2 angiography
Faster operation:
• Reduce the number of DSA runs needed to obtain a good image
• More accurate imaging improves patient outcome, contributing to a better life quality and a longer life expectancy and reducing the mortality
• Faster diagnosis and shorter intervention → accelerated work-flow in the healthcare sector
Compatibility with angiography equipment:
• Independent platform that improves the quality of the angiography equipment from medical imaging companies (e.g. Siemens, Philips, GE)
User-friendly for doctors and patients:
• The physicist will receive a training about the use of the platform, the highly automated operation does not require to extensive training
•Patients do not need extra collaboration, everything is identical with the current procedures.
Dose management: Reduce radiation and ICM dose
Reduce the workflow in hospitals and it will be evaluated internationally