Philips AngioSculpt focal force scoring balloon catheter
Focal force scoring balloon catheter
Manufacturer Info
Why to use it
Designed specifically to address complex lesions found in infrainguinal arteries, the AngioSculpt  PTA scoring balloon catheter offers 360˚ of precise and effective dilatation. AngioSculpt delivers a unique combination of controlled, effective dilatation and predictable device safety.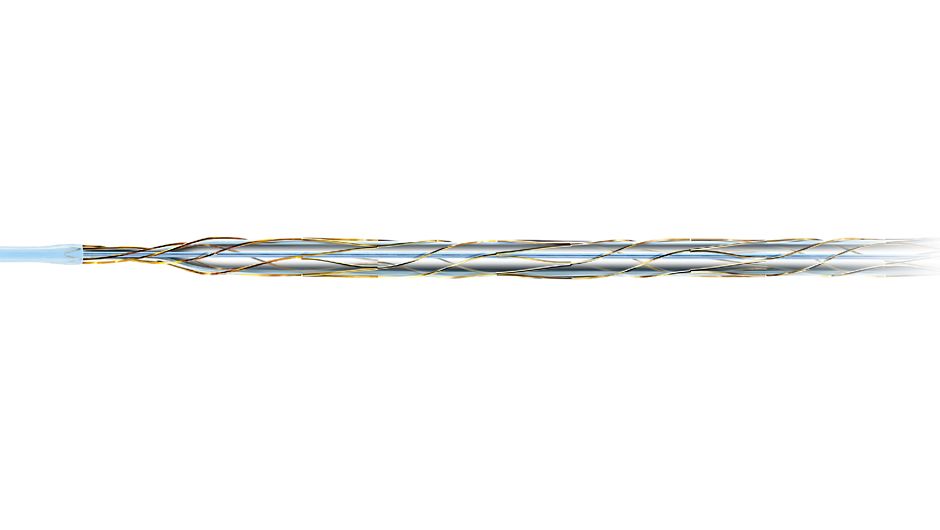 Characteristics
Precision: Edges lock in for minimal slippage
Rectangular scoring edges lock the device in place.  No significant device slippage or "watermelon seeding" means less risk of damage to healthy tissue
Power: ~15 – 25x scoring force
The leading edges are designed to drive outward expansion with up to ~ 25 times the force of a conventional balloon.  AngioSculpt's helical nitinol element creates a uniform initial luminal enlargement
Safety: ~1x force post scoring for low dissection rate
Post scoring, outward forces are designed to be equivalent to that of a conventional balloon.  Low dissection rate and minimal perforations.  Low rate of adjunctive stenting.  Zero (0) flow-limiting dissections.
References
1. Kiesz RS, Scheinert D, Peeters PJ, et al. Results from the international registry of the AngioSculpt Scoring Balloon Catheter for the treatment of infrapopliteal disease. J Am Coll Cardiol. 2008;51:10 (suppl B);75.
2. Scheinert D, Peeters P, Bosiers M, et al. Results of the multicenter first-in-man study of a novel scoring balloon catheter for the treatment of infra-popliteal peripheral arterial disease. Catheter Cardiovasc Interv. 2007;70:1034-1039.
3. AngioSculpt Test Plan ST-1197 (2008), on file at AngioScore, Inc.
4. Fonseca A, Costa JR, Abizaid A, et al. Intravascular ultrasound assessment of the novel AngioSculpt Scoring Balloon Catheter for the treatment of complex coronary lesions. J Invasive Cardiol. 2008;20:21-27.
5. Bosiers et al, Use of the AngioSculpt Scoring Balloon for Infrapopliteal Lesions in Patients with Critical Limb Ischemia: 1-year Outcome Vascular, Vol. 17. No. 1, pp. 29-35. 2009.
6. MASCOT Presented at Veith 2009 (NYC, NY) and CRT 2010 (Washington, DC).
Please refer to product labeling, including the Instructions For Use, to select the appropriate device size.