Recorded video case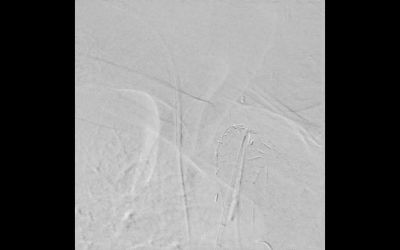 TEVAR WITH PROXIMAL SCALLOP CUSTOM MADE STENT-GRAFT FOR CHRONIC POST-TRAUMATIC ANEURYSMS OF THE AORTIC ISTHMUS
This is a case of 46 years old man with a grade II blunt traumatic aortic lesion 21 years ago, without any treatment and follow up.
Today 85 mm aortic isthmus pseudoaneurysm. Obesity, moderate-severe dyspnea, refusing sternotomy for FET.
Strategy: Custom-made scalloped stent-graft (Terumo Aortic Bolton Relay 30-26-180 mm) for Zone 1 (left common carotid artery). Waiting for the stent graft customization (3 weeks), car-subcl bypass and plug in the subclavian artery (allowing more accurate fusion imaging during TEVAR: redo fusion). Dynamic four-dimensional CT (4D CT) was performed pre- (showing the left main bronchus dynamic compression by the sac) and post- operatively (showing the free flow and first stent working during the cardiac cycle). TEVAR under fusion imaging technique, rapid pacing. Cone-bone CT scan showed a good aortic lesion exclusion, confirmed at 1 month 4D CT scan.